The plight of Rohingya Muslims fleeing Myanmar was thrust into the spotlight last month after thousands of migrants were left stranded at sea – but not all the images being shared online are what they seem to be.
The Rohingyas are a distinct Muslim ethnic group mainly living in Myanmar, also known as Burma. They are not recognised as citizens of Myanmar and face persecution in the majority Buddhist country, where many live in crowded camps. Powerful and seemingly genuine pictures and videos emerged of what Rohingyas must endure in Myanmar after thousands of migrants were left adrift with low supplies of food and water last month. But BBC Trending found some of the images being shared online don't show Rohingyas at all – but instead come from other disasters and news events.
Many of these images are graphic and disturbing. One of the photos, for instance, that shows up in search results shows Buddhist monks standing among piles of body parts. On Facebook and Twitter, the photograph has been cited as an example of Buddhist violence against Rohingyas. But the picture is not from Burma at all – it was actually taken in the aftermath of an earthquake in China in April 2010.
Another picture shows a man on fire running across the road. One group that shared the photo on Facebook suggesting the man suffered horrific abuse – that he was chopped up and burnt alive. But the real story is much different. In fact, the photo is of Jamphel Yeshi, a Tibetan activist who set himself on fire in Delhi in 2012 to protest against the Chinese president's visit to India.
There are many disturbing pictures of children circulating as well. One shows a boy tied to a wooden pole, with the marks of beatings visible across his back. While online posts call him a Rohingya boy, he's actually a seven-year-old Thai child who was beaten up by a relative for stealing sweets earlier this year.
Then there's this photo which has been widely shared, particularly in India and Pakistan, showing a motorcycle riding across the hands of school students who are lying on the ground with outstretched arms. The incident was actually a stunt by a martial arts trainer in south India: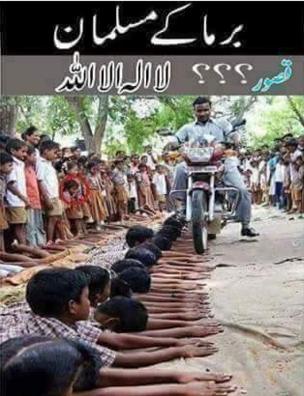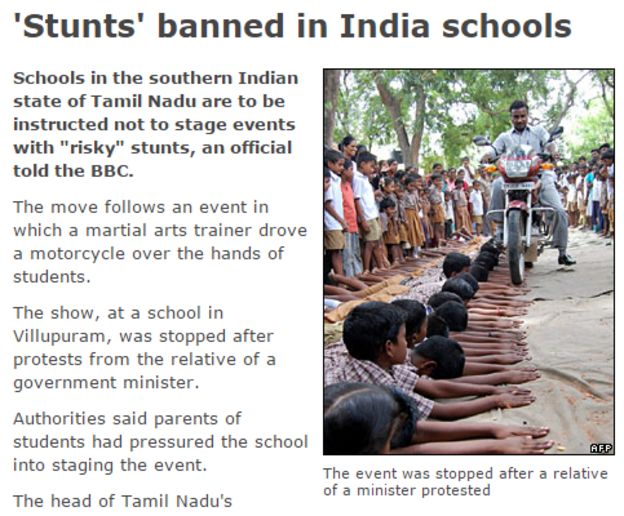 Other misleading images traced by BBC Trending using online photo search tools include a large crowd of people laying on the ground (actually of protesters being detained in Thailand in 2004), one showing burnt bodies (in reality from an oil tanker blaze in 2010 in the Democratic Republic of Congo) and a grisly photo of children with bloodstained clothes which apparently comes from Sri Lanka's decades-long conflict. These and other images have been shared thousands of times on Facebook mostly by people hoping to support the Rohingyas.
"We appreciate everyone's concern but encourage everybody to always check carefully before using images," says UK-based Rohingya activist and blogger Jamila Hanan. "Whenever the Rohingya hits media headlines these same photos are redistributed with some new ones included."
"There are so many genuine images of tragic scenes of the Rohingya that are genuine, there is simply no need for anyone to fabricate anything," Hanan told BBC Trending. "The most tragic images are the real ones."-BBC Trending
Blog by Samiha Nettikkara